Conference

2014
1.) 3rd Annual Diaspora Prayer Summit for Nigeria
Nigerian Embassy, Washington DC
June 20th 2014

2012 Projects
1.) ANWLD's National Day of Prayer - February 4, 2012

- Diaspora Day Time Line Program
- Diaspora National Day of Prayer Flyer
ANWLD-National-Day-Of-Prayer/21410765_JhD3nd#!i=1705987446&k=kXkxpf2" target="_blank">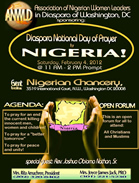 2.) Young Women's Scholarship Program - May 2012
3.) Domestic Violence Workshop 2012
4.) Domestic Violence Support Center 2012
5.) Kidspace 2012
6.) ANWLD 1st Fundraising Gala Night 2012 - Hilton Hotel @ Crystal City, Arlington, VA
2011 Projects
1.) 1 day seminar on the Tasting Real Nigerian Cooking -

2.) Domestic Violence / and Women Trafficking Workshop - July 16, 2011

3.) 3 - Day Annual Convention and ANWLD Inaugural Convention - September 30 - October 2, 2011

4.) 2 - Day conference on Promoting Good Governance and Democracy in Nigeria in Partnership with NND ( Nigerian Network in Diaspora)

5.) 2- Day Conference on Sex Education for Women and Young Adults.

6.) 1-Day Seminar on The Traditional Nigerian Woman in Marriage and Life in America

7.) 1 Day seminar on Nigerian Women as a Single Parent and Divorce Rate in America

8.) 1 Day Seminar on Healthcare - You and Your Health

9.) 1 Day seminar on Finance and the Economy - Where Do We Go From Here
The dates for all of these conferences have not been arranged--- Please check online for further info. Or you may call 202-320-8402.
2010
October 1st, 2010:
2 day Conference/Seminar by ANWLD/NIDO
Topic: Honoring The Nigerian Woman - at Nigerian 50th Independence Day Celebration, at
Embassy Square, Washington DC, and moderated by Stella Onuoha and Dr. Stella Agagbuo
October 21st, 2010:
1 Day Conference by Nigerian Embassy Staff and ANWLD -
Topic: Nigerian Women/Young Adults Empowerment Movement and Change for Women and Development Initiative by the First Lady of the Federal Republic of Nigeria, H.E Dame Patience Jonathan. She was represented by H.E Mrs. Amina Namadi Sambo and her entourage group of Several Wives of the State Governors.

Mailing List
Event Updates
As a member, you get privilege to be the first to know about upcoming events.
Subscribe today!